BY ANASTASIA REPOULIOU
no one leaves home unless
home is the mouth of a shark
~Warsan Shire, "Home"
Syrians are fleeing their homes because home is the mouth of a shark. According to a report by the humanitarian organization World Vision, violence caused by the civil war, a healthcare and education infrastructure collapse, and the imminent and exacerbated danger on children, who have suffered physical and emotional injuries, witnessed brutality, and are aggressively recruited in the war, have caused 4.3 million Syrians to flee their country and 6.6 million to become displaced.
Most remain in the Middle East (80,000 in camp Za'atari, 23,700 in Azraq), Turkey (1.9 million), Lebanon (1.1 million, residing in rented abandoned buildings, sheds, garages, tents), Jordan (630,000, residing with host families or in rented accommodations), Iraq (250,000 in the midst of Iraq's own armed conflict), and Egypt (fully integrated and largely urbanized), and slightly more than 10% of the refugees have travelled to Europe. Syrians, as all refugees fleeing conflict, are in immediate need of all the basics to sustain their lives: water, food, clothing, shelter, health assistance, and hygiene items.
Regardless of whether the refugees are residing in camps, or integrated in cities, they are facing varying levels of severe health risks, lacking access to basic sanitation and adequate health services. The response of both governments and existing health systems and foreign humanitarian aid by governments or organizations like the World Health Organization (WHO) and Médecins Sans Frontières (MSF) have been significant but still largely insufficient. Humanitarian response has also been mostly short-term and concentrated in safer areas and subject to funding cuts.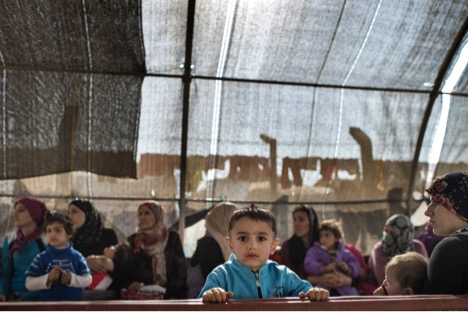 A joint field assessment by WHO and other humanitarian partners, supported by the Ministry and Departments of Health in Iraq and targeting Syrians residing both inside camps and within the host community in the Anbar and Dohuk governorates, has enabled a better understanding of the health conditions, services provided, and needs of Syrian refugees in Iraq.
The assessment outlined both the short-term and chronic health issues faced by the refugees. There is a significant shortage of chronic disease treatments and of facilities for people with disabilities, even though the children, women, elderly, and disabled were assessed to be at high risk of chronic diseases, and psychosocial and violence-related illnesses. At the same time, it's of the utmost importance that communicable disease outbreaks are prevented.
A more recent WHO initiative, the Health Working Group in Egypt, co-chaired by WHO Egypt and UNHCR, identifies chronic conditions, like hypertension, diabetes mellitus, and cardiac diseases, as well as serious mental health conditions to be among the most significant health needs of the Syrian refugees. At the same time there is a high risk of communicable disease outbreaks, such as the Middle East respiratory syndrome coronavirus (MERS-cov) and polio. MSF in its fieldwork found most health problems they are dealing with are related to poor medical conditions, including respiratory and urinary infections, gastro-intestinal problems, diarrhea, arthritis, and skin diseases.
Actions are of course being taken both by humanitarian organizations and governments to offer assistance and health infrastructure to the refugees. WHO in Iraq, for example, has provided the Directorate of Health medications covering their needs for three to five months, as well as wheel chairs and other medical supplies, such as health and hygiene kits, vaccination services, and health education, and has contributed towards the establishment of clinics and the building of medical staff capacity.
WHO in Egypt is supporting the Ministry of Health and Population through building primary health care capacity, helping develop an Early Warning and Response Network for communicable diseases (EWARNS), detecting and managing non-communicable diseases, and integrating mental health services.
Responding to the polio outbreak in Syria, WHO is assisting with national immunization for polio across Egypt, including in the refugee communities. MSF's actions in response to the crisis in Iraq include carrying out 126,722 medical consultations in Iraq, deploying mobile medical teams for remote and hard-to-reach areas, providing general health care with focus on chronic diseases, reproductive health, and mental health, and – in response to increasing needs – opening a maternity unit where women can deliver babies safely. MSF has also been working to contain the cholera outbreak in the Baghdad district and the governorates of Diwaniya, Najaf, and Babil.
As humans witnessing the violent uprooting of fellow humans we should be concerned and active in ensuring an improvement in the health conditions of the Syrian refugees.
But even disregarding our humanitarian obligations, it is of the utmost importance that we prevent the spread of especially communicable diseases that is made more likely through the mass displacement and bad living conditions of the refugees, since it can cause another world epidemic that will affect all of us in a very concrete way.
Sources:
"Iraq." MSF USA. Medecins Sans Frontieres, 24 Dec. 2013. Web. 12 Dec. 2015. <http://www.doctorswithoutborders.org/country-region/iraq>.
"Providing Health Care to Syrian Refugees in and outside the Camps." Iraq | News.World Health Organization, 2012. Web. 12 Dec. 2015 <http://www.emro.who.int/irq/iraq-news/syrian-refugees-in-iraq.html>.
"Syrian Refugee Response." Egypt | Programme Areas | Syrian Refugee Response.World Health Organization, 2015. Web. 12 Dec. 2015 <http://www.emro.who.int/egy/programmes/syrian-refugee-response.html>.